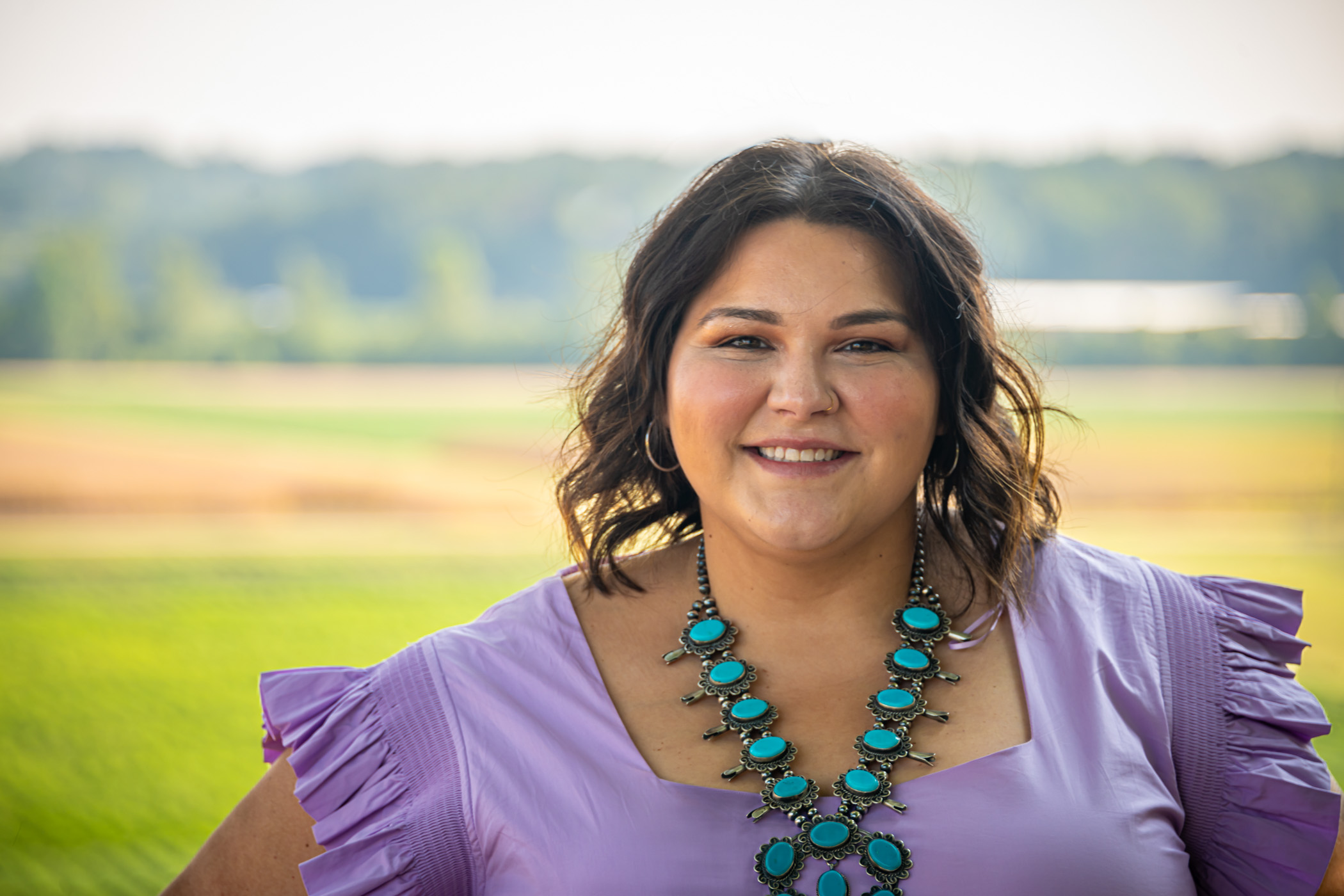 Jessica Benson has been "maroon and white" for some time—first as a Texas A&M Aggie and now as an MSU Bulldog. A native of Ennis, Texas, she brings an infectious enthusiasm and impeccable style into every room.  
The assistant professor of agricultural leadership joined the MSU faculty in fall 2022 and has quickly become a student favorite, known for her signature outfits and engaging personality. She also has learned much more about Mississippi agriculture as assistant director of the Thad Cochran Agricultural Leadership Program, or TCALP.
"TCALP is Mississippi's premier leadership program and it's geared toward early and mid-career individuals whose livelihood is intertwined with agriculture," said Benson. "Through this program, we take the leadership concepts that we teach theoretically at an undergraduate and graduate level and put them into practice with our adult participants."
Working with TCALP, Benson has gained a greater understanding of the distinctive aspects of Mississippi agriculture that differ from her native Texas. She has toured agricultural production sites across the state from the Mississippi Delta to the Gulf Coast. She even traveled to Brazil with a cohort to better understand agriculture on a global scale.
"The individuals I've met through TCALP have been so accepting and welcoming even though I'm young and new to the position. I hope that they have learned as much about leadership from me as I have learned about Mississippi agriculture from them," said Benson, who focused on agricultural leadership throughout her education, which included a bachelor's and doctoral degree from Texas A&M University, as well as a master's degree from the University of Georgia.
The first-generation college graduate said she pays it forward because of the mentors who invested in her.
"One of the reasons I do this job is because I've had amazing people who have poured into me from high school on. I am drawn to those students who may need a little extra help—whether they're first-generation or nontraditional students or simply trying to navigate a situation that's challenging to them in some way. Those students who might need a little more of your time, energy and heart have a huge impact on me. Watching them achieve goals they didn't think were possible makes it all worthwhile," she said.
Though she has just finished her first year as a Bulldog, Benson encapsulates Mississippi State's spirit of motivating and equipping the next generation of leaders.
"The greatest thing about Mississippi State, the College of Agriculture and Life Sciences and the School of Human Sciences is the unique opportunity we have to influence real change," Benson said. "We are in an era of dynamic transformational change, and we have the chance to drive change across the entire state and beyond. This university and college have a rich history of tradition and excellence, and I am thrilled to have come at an amazing time when we are actively working toward audacious goals."