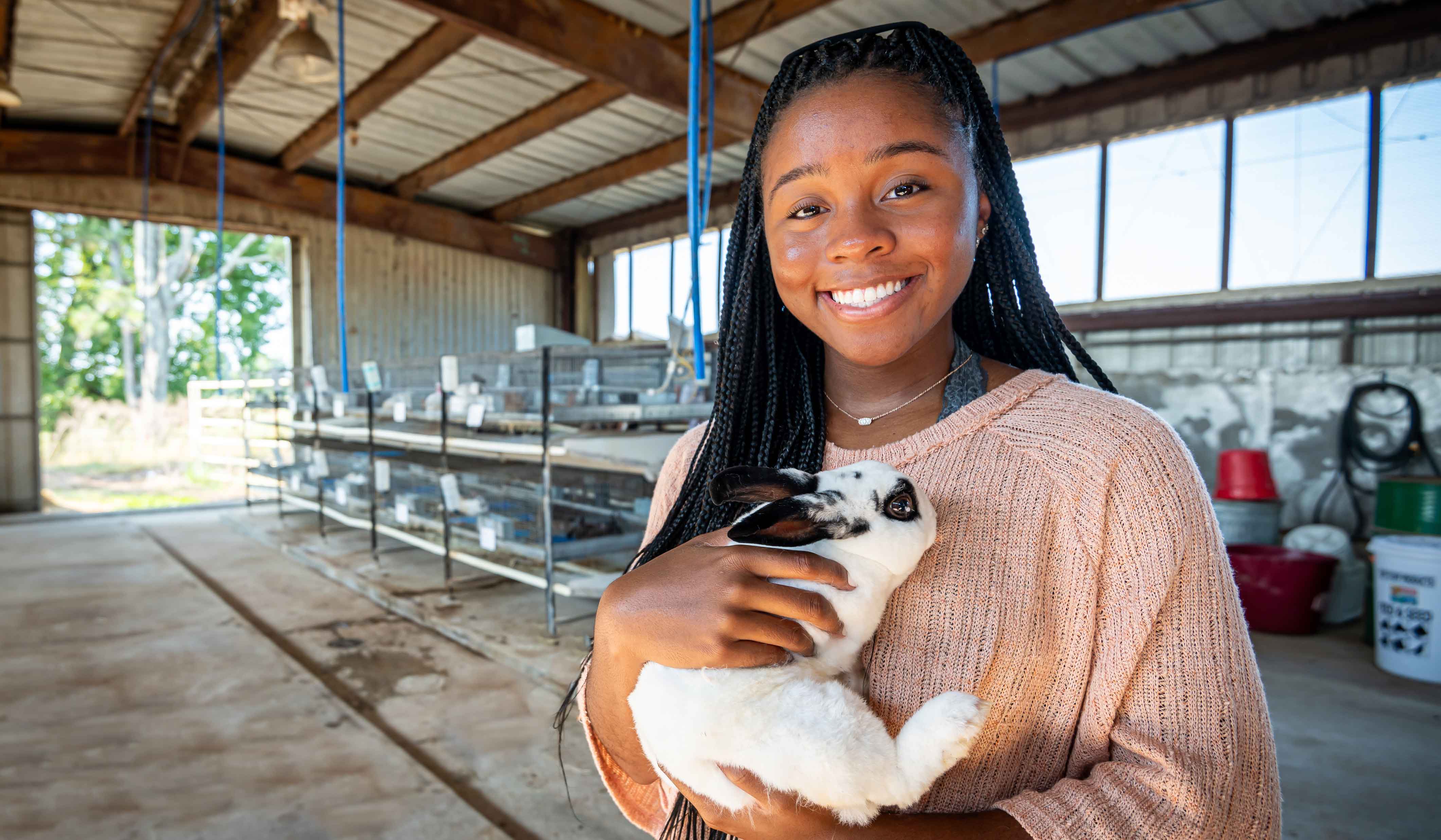 It was her grandfather, a soil conservationist, who ignited a passion for agriculture in Kristian Jones. Now, the senior MSU animal and dairy sciences major has traversed the globe honing her skills to one day become a veterinarian.
"My grandpa sent me to an agricultural camp in Kentucky every year that focused on animal science. We visited different farms and the equine hospital, and I developed a passion for helping animals," she said.
The hands-on pre-veterinary concentration offered in the Department of Animal and Dairy Sciences drew Jones to Mississippi State. In a family with strong ties to Alcorn State University, Jones is the first Bulldog.
She came to MSU in 2022 after earning an associate degree at Gulf Coast Community College on a softball scholarship. She hopes to graduate in December 2024 and start veterinary school soon after.
She said MSU has offered multiple experiences that are helping shape what kind of veterinarian she'd one day like to be.
One experience—an internship with the Mississippi Aquarium—brought her back to the Gulf Coast this past summer.
"Every day was different. We had a chance to assist veterinarians in a clinical setting, like drawing blood and assisting with animal examinations and even an endoscopy on a dolphin. We also interacted with the public, and I got to be a part of a sea turtle release," she said.
Jones was part of a team that released three endangered Kemp's ridley sea turtles into the Mississippi Sound. The turtles, nursed back to health by the aquarium staff, were cold-stunned in New England in 2022.
Jones has had several opportunities to be a part of hands-on research at the aquarium.
"I assisted with a North American river otter behavioral study and a habitat and health study on stingrays. We sought to learn how habitat factors like population and water temperature impact white blood cell counts in sting rays and how those factors contribute to their ability to fight off infection," she said.
This past spring, Jones also had the opportunity to delve into research as an undergraduate research scholar studying feeding habits in rabbits.
"I enjoy the research process and getting a question answered at the end, whether it's definitive or not. I just like seeing how the whole process comes together," she said.
The research also led to her joining a community-engaged study abroad trip to Guatemala as part of a team that learned about local culture while teaching Guatemalans about animal husbandry and ways to increase food security.  
Jones stays busy now that she's back on campus. She's an involvement ambassador at the university and public relations coordinator for the Pre-Vet Club.
"The Pre-Vet Club at MSU does service projects and has guest speakers that discuss different occupations available in the field, and I think just being around people that are like-minded and are going for the same goal is fun. I'm a very shy person initially, so I think serving in a leadership position with the club has helped me branch out more," she said.
While Jones has always been interested in the companion animal side of veterinary medicine, her time at MSU has inspired her to consider other options.
"The internship with the Mississippi Aquarium this past summer, in particular, opened my eyes to all the possibilities available for a career in exotic or aquatic animals," she said.