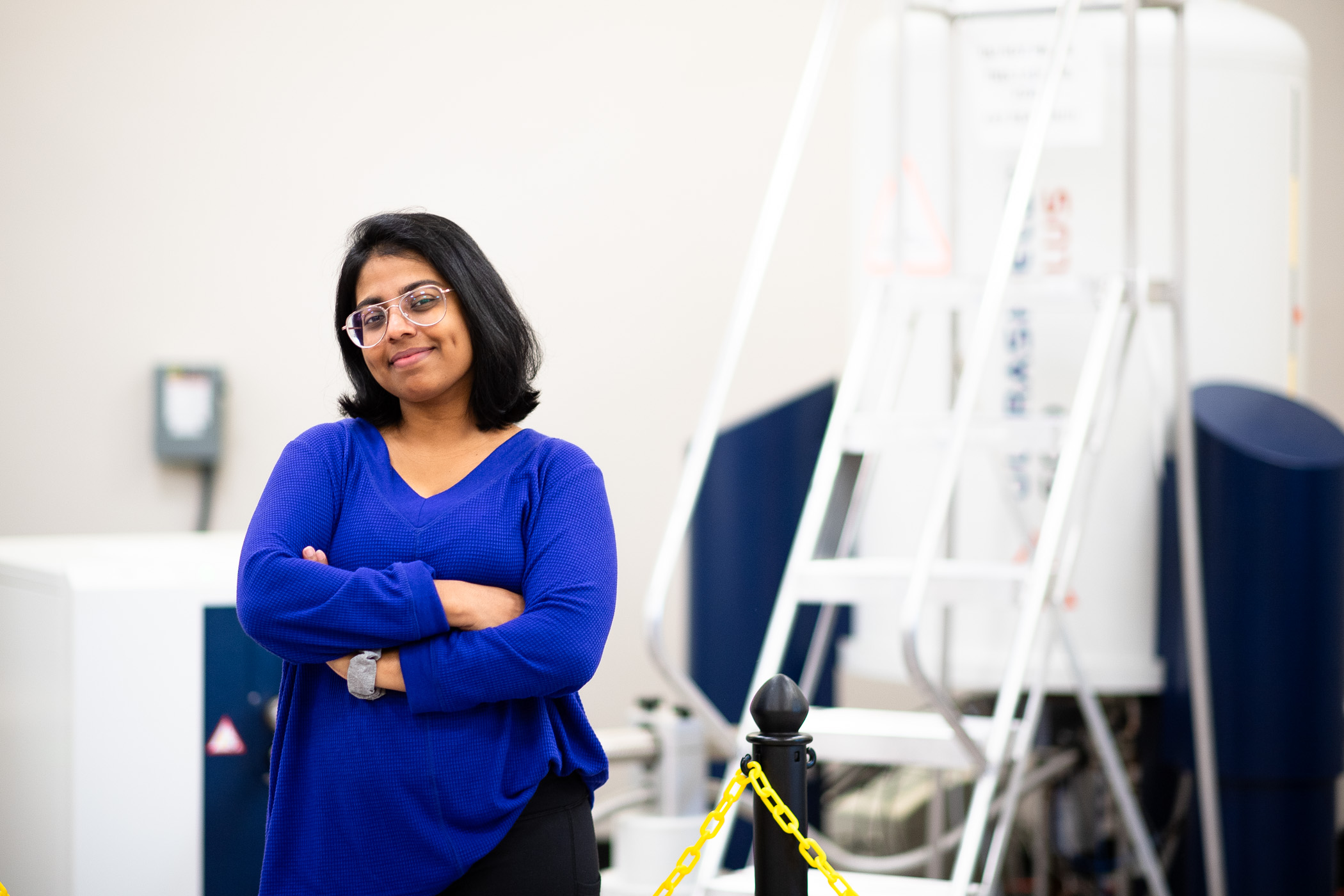 Radha Somarathne, a Mississippi State Ph.D. student studying chemistry, knows the value of higher education.
"Having a college degree is crucial. It's like opening up a whole world of opportunities, learning and growth that goes way beyond the classroom," said the Sri Lanka native who moved to the U.S. to enroll at MSU in 2019. "First off, it sets you up for success in your future career. You're not just studying; you're building a toolkit for real-world challenges. Doors swing open when you've got that degree in your pocket."
Radha earned her bachelor's degree in chemistry from Sri Lanka's Institute of Chemistry in 2018 and realized MSU was a "natural choice" to continue her education. She has spent her time in Starkville investigating how biofilm-forming bacterial proteins interact with surfaces—work that earned her the Department of Chemistry's Outstanding Graduate Student designation in 2023.
"By gaining a better understanding of how bacterial surface proteins interact with surfaces, we can develop new strategies to prevent and treat biofilm-associated infections," she said. "Overall, my work has the potential to make a significant impact on public health and contribute to our understanding of microbial ecology, which could ultimately lead to the development of new and innovative materials to prevent biofilm-associated infections."
While at MSU, Radha interned at Bayer, a renowned pharmaceutical and life sciences company, where she worked as a protein scientist for seven months. She said the guidance she received from her advisor, Nick Fitzkee, was invaluable in developing both her soft and technical skills, making her transition into the industry "seamless and effortless."
"The experience gave me exposure to the real-world applications of my research, and I gained valuable insights into the industry's workings," Radha said. "My time at Bayer not only helped me grow as a scientist, but it also gave me a new perspective on the role of academia in advancing the pharmaceutical and life sciences field.
"Internships are the missing puzzle piece in your studies," she continued. "You finally get to put all those theories into action and see how they work in real-world situations. It's like your textbook comes to life. The best part is you're not just working; you're making connections—rubbing shoulders with pros who can show you the ropes and open doors. Also, you're getting a sneak peek into how the big-shot companies run the show. It's not just about skills. You're growing as a thinker and a problem-solver. Figuring things out when they don't go as planned—that's where the real learning happens."
Radha will defend her dissertation this month and plans to graduate in December. After graduation, she plans to join a top-ranking pharmaceutical company or work in the biotech industry, where she will use her knowledge and skills to contribute to groundbreaking innovations that enhance lives.
"I'm determined to be the positive change I wish to witness globally. Specifically, I envision myself working on innovations that become everyday products on supermarket and pharmacy shelves—products that bear the mark of my involvement in their innovation pipeline."
Whether she's volunteering at Service Dawg Days, serving as a graduate student research ambassador in the College of Arts and Sciences, working in a lab or preparing to defend her dissertation, Radha said one of her favorite parts of her MSU experience is witnessing the value MSU places on diversity.
"I've been able to attend so many cultural events, musical concerts and art festivals," she said. "The campus vibe itself is just great—modern facilities mixed with natural beauty, making it a really inspiring place to study.
"Another great thing about MSU is how the university helps students grow," Radha added. "They organize these events through the Career Center, giving us a chance to learn, connect and prepare for life after college. It's not just about classes here; it's about preparing us for the real world in a way that feels exciting and supportive."