Contact: Sarah Nicholas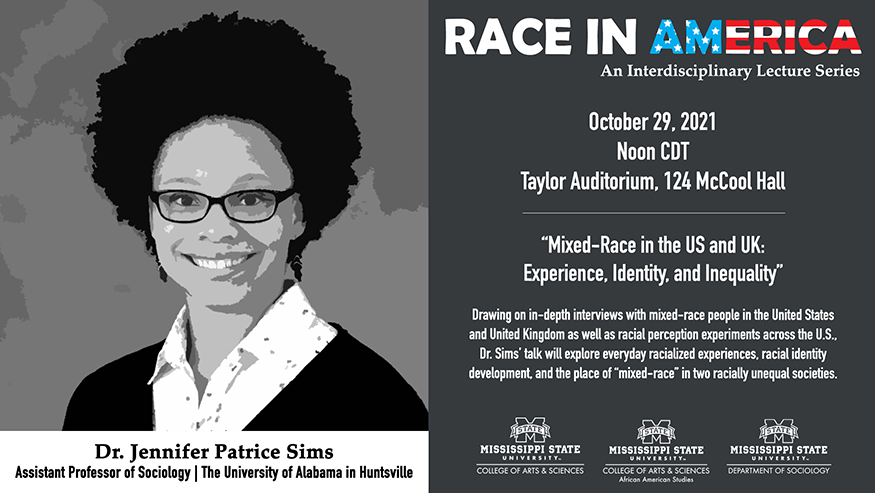 STARKVILLE, Miss.—Mississippi State University's interdisciplinary lecture series—Race in America—this year spotlights the mixed-race experience in the U.S. and United Kingdom as well as racial perception studies in the U.S.
Presented by Jennifer Patrice Sims, an assistant professor of sociology at the University of Alabama in Huntsville, the 7th annual Race in America Series will explore everyday racialized experiences, racial identity development and the place of "mixed-race" in two racially unequal societies.
"Mixed-race in the U.S. and U.K.: Experience, Identity and Inequality" will be presented Oct. 29 at noon in McCool Hall's Taylor Auditorium. The lecture is free and open to the public.
"Dr. Sims is an outstanding sociologist who studies racial identity as well as the social construction of race," said Event Chair Margaret Hagerman, an MSU associate professor of sociology.
"The work she will be sharing with our community compares how race shapes the racialized experiences and identities of mixed-race people in both the U.S. and the U.K. Given this comparative approach, Dr. Sims brings a unique perspective to the Race in America series this year. We are really excited to learn from her," Hagerman said.
She authored, with U.K. researcher Chinelo L. Njaka, the 2019 Emerald Publishing book "Mixed-Race in the US and UK: Comparing the Past, Present, and Future," winner of the 2020 Mid-South Sociological Association Stanford M. Lyman Distinguished Book Award.
She is the editor of "The Sociology of Harry Potter: 22 Enchanting Essays on the Wizarding World," a 2012 Winged Lion Press, LLC publication. 
Sims earned a Ph.D. in 2014 from the University of Wisconsin-Madison and her master's degree in 2006 from Vanderbilt University. She received her bachelor's degree in 2004 from Hampton University in Virginia.
The Race in America lecture series is sponsored by MSU's College of Arts and Sciences, the Department of Sociology and the African American Studies program. Helping organize the event with Hagerman are Gabriel "Gabe" Miller and Sanna King, both assistant professors in MSU's Department of Sociology.
For more details about the College of Arts and Sciences visit www.cas.msstate.edu.
MSU is Mississippi's leading university, available online at www.msstate.edu.