Contact: Allison Matthews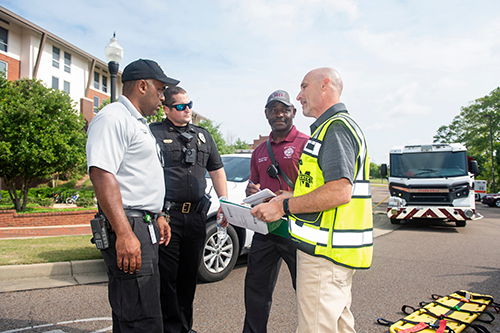 STARKVILLE, Miss.—Mississippi State's Crisis Action Team facilitated a university preparedness exercise today [May 19], which included a hypothetical scenario so that administrators and key decision makers could practice their emergency response skills.
Crisis Action Team members and on-campus responders included personnel representing MSU Police, Longest Student Health Center, Human Resources, Compliance and Risk Management, Facilities Management, Information Technology Services, Student Affairs, Academic Affairs and Public Affairs, among others. Additionally, the activity included coordinating agencies, such as OCH Regional Medical Center, Starkville Fire Department, Oktibbeha County Emergency Management and the Mississippi Emergency Management Agency.
MSU Emergency Manager Brent Crocker reflected on the importance of preparedness training.
"The Mississippi State University Crisis Action Team meets regularly to train for emergencies. However, today's exercise allowed us to work through a realistic scenario and focus on response efforts, such as emergency notifications, evacuations and student care. The exercise also emphasized the importance of coordination and communication during a crisis," Crocker said. "If a large-scale emergency occurs, Mississippi State and responders will be better prepared to act. We appreciate the participation of our local and state agencies and continue to strengthen our relationships."
Vice President for Student Affairs Regina Hyatt, who routinely serves as the Crisis Action Team's Incident Commander, said drills allow an opportunity to ensure the team's processes and policies are working as intended. She noted that it is important for team members to spend time working with one another, learning strengths and opportunities, so they can operate well as a team in times of crisis.
"We hope to never have to use these procedures, yet we need to ensure that in times of real crisis they can be deployed effectively," Hyatt said.
The most common types of threats to the campus community include inclement weather incidents, but the Crisis Action Team trains for a wide variety of other potential emergency scenarios.
MSU advises all students, faculty and staff to periodically update Maroon Alert contact information and opt in to receive Maroon Alert text messages. For more information about Maroon Alert and registration instructions, visit https://www.emergency.msstate.edu/maroon-alert. Follow @MaroonAlert on Twitter.
For preparedness information, emergency procedures and additional resources, visit https://www.emergency.msstate.edu/.
MSU is Mississippi's leading university, available online at www.msstate.edu.