Contact: Carl Smith
STARKVILLE, Miss.—Mississippi State has designated numerous Starkville campus locations as Areas of Refuge available to students and employees seeking shelter from severe weather.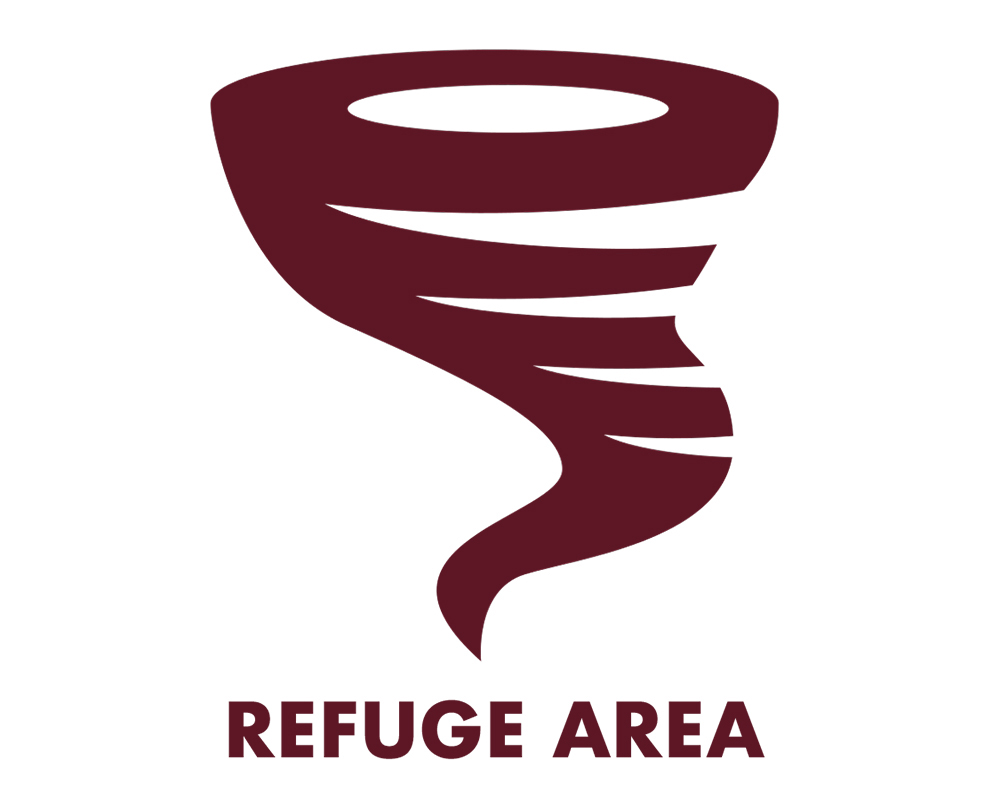 These areas, marked by nearby signage, were structurally reviewed by an engineer and deemed likely to offer additional protection during extreme wind events. They are, in general, located centrally on the lower floors of their respective buildings and away from windows. Students and employees are encouraged to take the time now to make themselves familiar with the location of the closest Area of Refuge.
Specific buildings and their respective Areas of Refuge include:
—Allen Hall: Rooms A11, A12, A13, A14, A25, A34 and A37, first floor
—Colvard Student Union: the Dawg House, Room 123, first floor
—Lee Hall: Rooms 0010, 0011 and 0014 in the basement hallway
—McCool Hall: Rooms 103, 107, 109, 111, 113 and 117, first floor
—Mitchell Memorial Library: Rooms 1050, 1054, 1056 and 1252, first floor
—Wise Center: Rooms A1200 and A1306, first floor
A designated MSU staff member will be onsite at the Areas of Refuge in the Colvard Student Union, Mitchell Memorial Library and Wise Center when the spaces are in use for this designated purpose and based upon forecasted weather conditions. Areas of Refuge will be accessible during the normal operational hours of those buildings. However, the Wise Center, Union and Library will continue to remain accessible until the severe weather threat ends. If a threat develops after hours, students and employees are encouraged to remain in their current building or seek safety at the county's safe room. The Federal Emergency Management Agency-certified storm shelter capable of temporarily protecting 1,500 people is located at 985 Lynn Lane, less than 3 miles west of MSU's Starkville campus.
Brent Crocker, MSU's emergency manager, said the university will continue to identify Areas of Refuge in existing buildings and future construction.
"These Areas of Refuge were identified for their enhanced safety features and high usage," he said. "When a tornado warning is issued, it is important to quickly move to an interior room on the lowest level of the nearest building—even if it is not a pre-designated Area of Refuge. Always avoid driving or going outside once a tornado warning is issued."
Generally, when a tornado warning is issued for campus, normal operations are suspended, classroom instruction ends and those on campus are advised to seek safety. Many buildings on campus offer substantial protection against severe weather, Crocker said, and it is generally not necessary to leave one building in search of another one.
Those located in residence halls should follow instructions from MSU Housing and Residence Life staff regarding safe locations.
Follow emergency updates and instructions disseminated from MSU's official Maroon Alert system via Twitter (@Maroon Alert), the Everbridge mobile app, emails, text messages and phone calls. The university's Facebook page, located at www.facebook.com/msstate, will share updates during an emergency.
The Everbridge app may be downloaded from any app store. Instructions are online at www.emergency.msstate.edu/app.
Sign-up instructions for the Maroon Alert system are available at www.emergency.msstate.edu/maroon-alert.
For more information about the Areas of Refuge and MSU Emergency Management, visit www.emergency.msstate.edu/refuge and www.emergency.msstate.edu, respectively.
MSU is Mississippi's leading university, available online at www.msstate.edu.