Contact: Sid Salter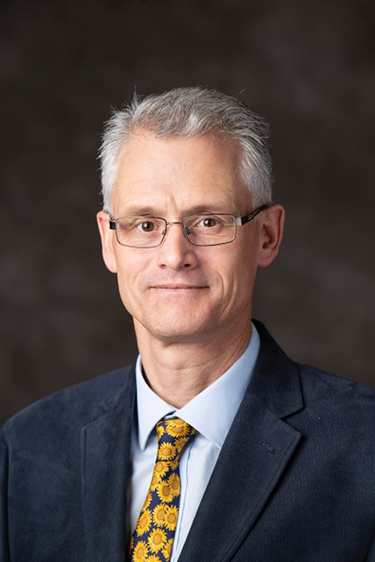 STARKVILLE, Miss.—Mississippi State University President Mark E. Keenum today [May 11] announced Dr. Nicholas Frank, DVM, Ph.D., DACVIM as MSU's new dean of the College of Veterinary Medicine. Frank is currently in his sixth year as associate dean for academic affairs and professor at Tufts University's Cummings School of Veterinary Medicine in North Grafton, Massachusetts.
The appointment follows a comprehensive and competitive national search completed in conjunction with an advisory committee including Keenum and other MSU academic leaders, CVM faculty, and university and industry/farming community stakeholders. Frank's selection is pending formal approval by the Board of Trustees, Mississippi Institutions of Higher Learning.
"We conducted a thorough national search and, in that process, interviewed some of the nation's best veterinary medicine university administrators," Keenum said. "After extensive review of these outstanding candidates and with due consideration of the vital importance of Mississippi's farming and agribusiness interests to our state's economy, I am convinced that in Nicholas Frank we found a dynamic leader who has extensive experience in both large and small animal veterinary medicine teaching and research. He also understands and shares our commitment to providing exemplary service and support to Mississippi's farmers and ranchers, poultry producers, and equine interests."
MSU Provost and Executive Vice President David R. Shaw said: "The search committee was impressed that Dr. Frank has spent his career in equine medicine and brings a wealth of experience in large animal veterinary practice. From his service at Purdue University and the University of Tennessee, he also brings extensive experience with the land-grant university mission."
MSU Division of Agriculture, Forestry and Veterinary Medicine Vice President Keith Coble also praised Frank as "someone who appreciates the connectivity between the university and Mississippi's farmers, ranchers and producers and wants to be a part of addressing industry challenges. I believe Dr. Frank will build on that already strong relationship."
Frank said of his appointment, "It is an honor to have been selected as the next dean of the College of Veterinary Medicine. I look forward to working with all members of the community to advance veterinary medicine, support agriculture, and further the mission of Mississippi State University." 
Frank grew up in the United Kingdom and he earned his undergraduate degree in biology from the University of North Carolina and his Doctor of Veterinary Medicine degree from Purdue University—later completing an internship in large animal medicine and surgery and residency at Purdue in large animal internal medicine.
He became a diplomate of the American College of Veterinary Medicine in large animal internal medicine in 2000. Frank earned his Ph.D. in equine endocrinology and nutrition from Purdue in 2002.
While at Tufts, Frank also served as a professor in the Graduate School of Biomedical Sciences. He is an honorary professor of endocrinology at the University of Nottingham's School of Veterinary Medicine and Science in Nottingham, England.
Before joining Tufts in 2011, Frank was director of the Center for Equine Veterinary Research at the University of Tennessee.
He is married with two sons and has been active in Scouting and as a public school volunteer in Grafton and Worchester, Massachusetts.
Mississippi State University is taking care of what matters. Learn more at www.msstate.edu.