Contact: James Carskadon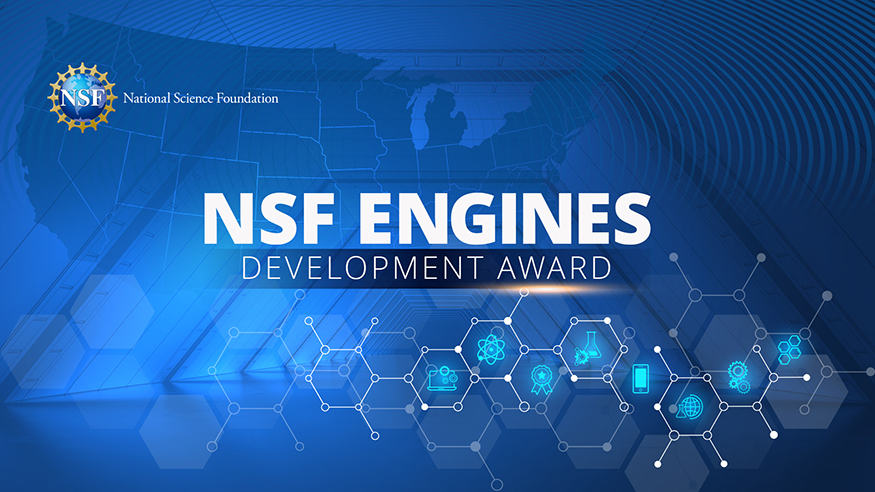 STARKVILLE, Miss.—The Mississippi State University Advanced Research and Development Corporation has been awarded $1 million from the U.S. National Science Foundation's Innovation Engines program for the MSU-led initiative, "Advancing autonomous technologies for advanced manufacturing in Mississippi."
MSU ARDC is among more than 40 unique teams to receive one of the first-ever NSF Engines Development Awards, which aim to help partners collaborate to create economic, societal and technological opportunities for their regions. MSU ARDC is non-profit corporation created for the purpose of promoting, developing and administering enterprises that arise from research or technological innovations at the university.
The goal of the project, dubbed SmartTech Mississippi, is to advance the regional manufacturing ecosystem by developing and integrating smart, autonomous technologies, positioning Mississippi to capitalize on technological advances in manufacturing and enhancing U.S. industrial competitiveness. The initiative brings together like-minded partners from industry, academia, economic development, state, and local communities to improve productivity, develop new technologies, upskill the workforce, fuel startups, attract new industries and help existing industries grow.
"MSU is proud to lead this effort that will accelerate autonomy in Mississippi's manufacturing sector, increasing productivity and competitiveness," said MSU Vice President for Research and Economic Development Julie Jordan. "An effort like this is made possible through already strong partnerships among private and public stakeholders who believe in Mississippi's future and our ability to be at the leading edge of innovation in manufacturing."
"Research and innovation are crucial for our nation's future, and Mississippi is poised to be a leader," U.S. Sen. Roger Wicker said. "One important provision of the CHIPS and Science Act helps ensure that our universities can compete and make valuable contributions on the global stage. In November, we hosted NSF Day in Mississippi where we showcased our outstanding research capabilities. This latest round of research grants is a victory for both our state and our country, and it will enable Mississippi to maintain its position in developing cutting-edge technologies."
Launched by NSF's new Directorate for Technology, Innovation and Partnerships and authorized by the "CHIPS and Science Act of 2022," the NSF Engines program uniquely harnesses the nation's science and technology research and development enterprise and regional-level resources. The program aspires to catalyze robust partnerships to positively impact regional economies, accelerate technology development, address societal challenges, advance national competitiveness and create local, high-wage jobs.
"These NSF Engines Development Awards lay the foundation for emerging hubs of innovation and potential future NSF Engines," said NSF Director Sethuraman Panchanathan. "These awardees are part of the fabric of NSF's vision to create opportunities everywhere and enable innovation anywhere. They will build robust regional partnerships rooted in scientific and technological innovation in every part of our nation. Through these planning awards, NSF is seeding the future for in-place innovation in communities and to grow their regional economies through research and partnerships. This will unleash ideas, talent, pathways and resources to create vibrant innovation ecosystems all across our nation."
The awardees span a broad range of states and regions, reaching geographic areas that have not fully benefited from the technology boom of the past decades. These NSF Engines Development Awards will help organizations create connections and develop their local innovation ecosystems within two years to prepare strong proposals for becoming future NSF Engines, which will each have the opportunity to receive up to $160 million. 
The MSU-led NSF Engines Development Award aims to accelerate integration of Industry 4.0 smart and autonomous technologies through north Mississippi's diverse manufacturing economy. The wide-ranging collaboration is based on a mutual understanding of the connections between university and private sector research and development, workforce development, all levels of education, current industry needs and economic development – all of which can be harnessed to ignite economic activity in the region while strengthening the U.S. industrial base.
More information on NSF's Regional Innovation Engines can be found on the program website at https://new.nsf.gov/funding/initiatives/regional-innovation-engines. For more on SmartTech Mississippi, visit www.smarttechms.com.
Mississippi State University is taking care of what matters. Learn more at www.msstate.edu.