Contact: Allison Matthews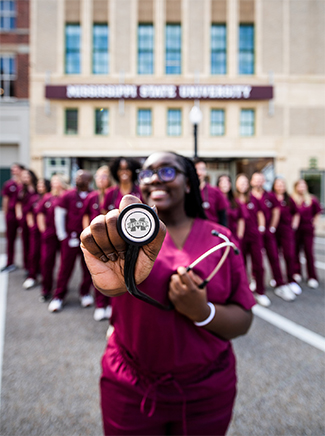 STARKVILLE, Miss.—Mississippi State University-Meridian is well on the way to achieving accreditation goals for the new Master of Physician Assistant Studies degree program.
Associate Vice President and Head of Campus Terry Dale Cruse is congratulating PA Program Director Shey Washburn and faculty for achieving continued provisional status of accreditation.
The rigorous 29-month program at the Riley Campus in downtown Meridian first welcomed students in early 2021. Accreditation involves a multi-year, formal process administered by the Accreditation Review Commission on Education for the Physician Assistant, or ARC-PA. The second of three site visits occurred earlier this year, and MSU-Meridian leaders recently received an official report confirming the commission's continued confidence in the state's only publicly funded program.
"Mississippi State University—and particularly our Riley Campus at MSU-Meridian—is devoted to meeting critical health care needs within our state and region. The university has made this commitment a high priority, as have our generous supporters like the Riley and Phil Hardin foundations which have helped make this program possible," Cruse said. "I'm extremely grateful for the additional support of our local medical centers, physicians, excellent faculty and university leadership through this intensive process."
PAs are nationally certified and state-licensed medical professionals who practice medicine on health care teams with physicians and other providers. They perform a broad range of diagnostic, therapeutic, preventative and health maintenance services.
Cruse said MSU-Meridian's program specifically has a mission "to prepare PAs to practice and promote empathetic, primary care-focused medicine that serves the culturally diverse state of Mississippi."
He noted the curriculum is delivered in state-of-the-art facilities, using team-based learning techniques, traditional lectures, high fidelity simulators and early involvement in clinical experiences.
For more on MSU-Meridian's PA program, visit https://www.meridian.msstate.edu/academics/physician-assistant/ or email pa@meridian.msstate.edu.
Mississippi State University is taking care of what matters. Learn more at www.msstate.edu.