Contact: Allison Matthews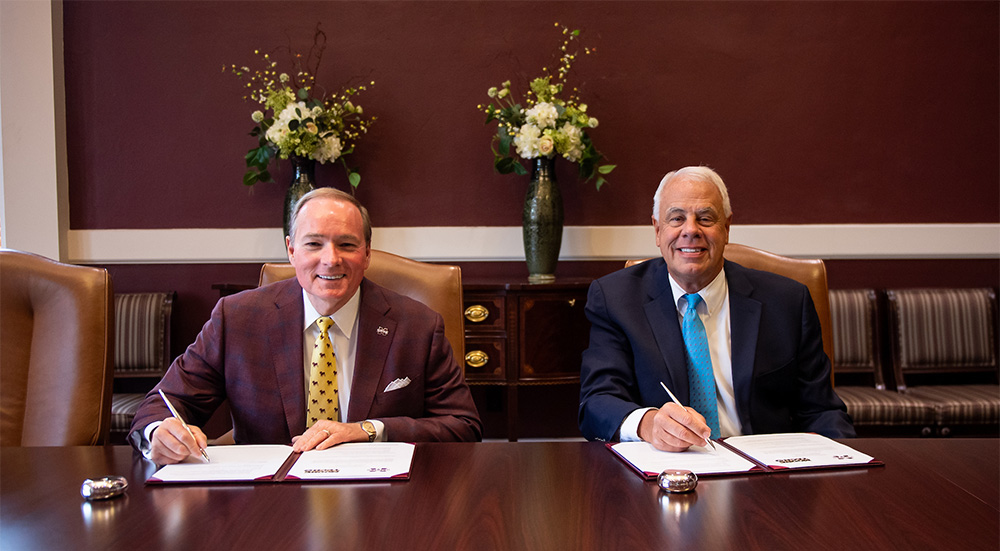 STARKVILLE, Miss.—Mississippi State University and William R. Moore College of Technology in Memphis, Tennessee, signed a memorandum of understanding Thursday [Aug. 24] streamlining a pathway for Moore Tech graduates of technical education programs to join MSU's Bachelor of Applied Science degree program.
Moore Tech President Skip Redmond joined MSU President Mark E. Keenum for the official signing that facilitates a smooth transfer for students advancing toward baccalaureate degree completion.
MSU will apply 60 credit hours of a Moore Tech Associate of Applied Technology degree directly toward a minimum 120 credit hours required to earn the university's Bachelor of Applied Science. Of those 60 transfer hours, 45 may be technical credit.
MSU launched its BAS program in 2019, significantly expanding the university's acceptance of technical credit from community colleges and military training. It is intended to serve the needs of adults who have completed a technical associate degree program through a community college or the military and need additional education to advance their careers. The program offers flexible options, with many online courses.
For more about MSU's Bachelor of Applied Science program, visit bas.msstate.edu.
Similar agreements have been signed with many community colleges across the Magnolia State—Copiah-Lincoln, East Central, East Mississippi, Hinds, Holmes, Itawamba, Jones College, Meridian, Mississippi Delta, Mississippi Gulf Coast, Northeast, Northwest, Pearl River and Southwest—and other out-of-state partners, including the most recent agreements with Bevill State Community College in Jasper, Alabama; Chattahoochee Valley Community College in Phenix City, Alabama; Ivy Tech Community College in Indiana; and Louisiana Delta Community College in West Monroe, Louisiana.
Moore Tech is online at www.mooretech.edu.
Mississippi State University is taking care of what matters. Learn more at www.msstate.edu.